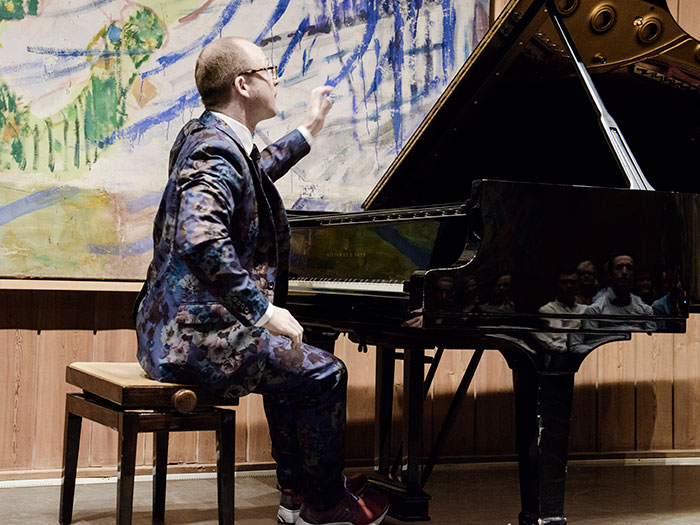 Jeg har vært heldig og fått mye støtte gjennom studietiden og i etterkant med tanke på mennesker som har hjulpet meg frem. Også med tanke på priser jeg har vunnet og blitt tildelt. Nå har jeg også lyst til å dele ut en pris hvert år. Aksel Kolstad-prisen. I år er prisen på 10.000 NOK pluss en konsert på Café de Concert. Til en musiker som utmerker seg musikalsk og kreativt på samme tid. Du må studere musikk, valgfritt instrument.
Innledende runde: - last opp en 2 min lang videopresentasjon på youtube hvor du* spiller/synger klassisk/samtidsmusikk, forteller om deg selv, hva du ønsker gjøre med din karriere og hva du har i deg som du ønsker formidle til resten av verden på en unik og underholdende måte
- bruk kun ett stykke gjennomgående i filmen
Siste runde:
- forbered 2-3 stykker på tilsammen max 15 min som du skal binde sammen verbalt, med performance, multimedia, teatralsk, med andre musikere, dans e.l. (you get the point). Dette fremføres på Café de Concert live med publikum. 3 finalister blir plukket ut til siste runde på Café de Concert. Vinneren blir plukket ut på stedet av juryen som består av undertegnede og pianist og professor i klaver ved Norges musikkhøgskole Tor Espen Aspaas.
- send youtubelinken til aksel.kolstad@cafedeconcert.no innen 16. mai
- videoen må ikke være datert eldre enn 4 februar 2012.
- finalen holdes på Café de Concert i Oslo 30 mai kl 19:00
*man kan også delta som ensemble
Stikkord: "Dare to be different"
Lykke til og kick ass!!
Beste hilsen, Aksel Kolstad
Juryformann