A new day in wonderful midtown Manhattan.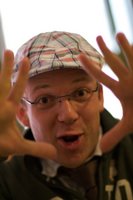 Aksel is as always strolling around the city, enthusiastically inviting people to the concerts and spreading the word about CdC. That's what we call direct marketing!
This time in the US, our team consists of Aksel Kolstad, (MD, pianist), Catharina Chen (violin), Nicholas Gallas (clarinet), Michelle Alexandra (actress) and Morgan Nicolaysen (multimedia, web, blogging, taking musicians out shopping)
As we're exploring the US, our Norwegian producer, Marcia Titley is taking great care of business in Norway. Marcia is the latest member of the administration and brings valuable knowledge to CdC.
In Norway today, musicians from
Fredrikstad Chamber Orchestra will be performing at Verdensspeilet Café in Fredrikstad at 7 PM
(19:00) and
Amelie Lied Haga, violin and Christian Hundsnes Grøvlen, piano are playing at Café Frölich in Oslo at 8 PM
(20:00) If you're either in Oslo or Fredrikstad, be sure not to miss out on these great musicians.
Innovation Norway in the US
Since december 2008, we have been so lucky to be supported by Innovation Norway.
Because of I.N., we're able to travel around the world with support from all of their offices abroad. We are very proud to be profiled on their Visit Norway page and extremely thankful for everything they do for us! Looking forward to see you at our concert on Monday, guys!

We're also doing our best to take care of our musicians while touring.
A part of that is taking them out shopping for shoes..


The history of Café de Concert
Café de Concert began a few days before the 19th of June 2003 when Aksel Kolstad together with a colleague performed live on Midt i Musikken, a classical music program on NRK radio P2. During the program, the trial concert was announced, to be held at Kastanjen restaurant on Bygdøy Allé in Oslo.
Read more...

Visit the old Café de Concert media centre HERE