Submitted by

aksel

on Sun, 2009-05-24 20:14
Last year Café de Concert made it´s
first music video
directed by
Aksel Kolstad (who seems to really make a habbit of doing
things he´s actually not suppose to be able to do....).
Café de Concert took the giant leap into music video making to make
a statement to the rest of the classical world: "Hey guys - let´s not
have our asses glued to the chairs in the orchestra
pits...Let´s join the rest of the musicians all over the world - on
MTV". Café de Concert has now just begun doing it´s second music
video, this time directed by Robin Alexander Eriksen, a young
promising student-actor at the American Academy of dramatic and arts
- circling towards becoming a film director. Café de Concert is also
planning to make movies of a larger scale in the future. And the
pilot for that will be a short film of 30 min, presumably with a
famous young star in the lead, right after the one beeing worked on now is finished.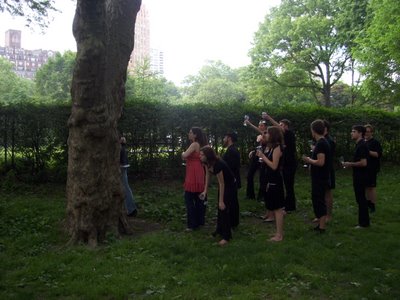 In this one, Michelle Alexandra is the lead, supported by 12 fine young students,
like Robin, also from the American Academy of dramatic and arts.
Alia, Daniel, Betsy, Leah, Victoria, Garry, J.J, Jessica, Jared,
Caleb, Giordana and Derek - a big thank you to you guys for beeing
such great sports and contributing with great skills to this music
video. It all started with three scenes in Central Park, NY...let´s
wait and see what Robin has got up his sleeve for the rest of the
music by Arvo Pärt - Fratres - which will be recorded by Catharina
Chen and Aksel Kolstad in near future with our sound engineer Morgan
Nicolaysen.