Innovation Norway has started a new and wonderful trend in New York by presenting different impressions of Norway through design, architecture, gastromoni and music - this time at the residence of Norway's Consul General Sissel Breie at Park Avenue and 55th street in Manhattan.
Aksel Kolstad and Café de Concert were so fortunate to represent classical music as one of the impressions of Norway that was presented in the US yesterday. Aksel Kolstad also hosted the whole event and presented Moods of Norway, Snøhetta, the wonderful Norwegian chef Gunnar Hvarnes and of course also Café de Concert - all presented in hard core and entertaining Café de Concert-style.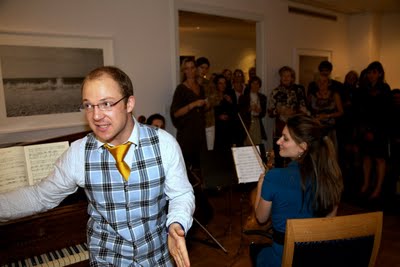 Kolstad performed the Grieg piano-trio with two of CdC´s newest producers in NY, Gabrielle Fink (violin) and Leat Sabbah (cello) after performing one of his own solo pieces for piano. At the end of the event Filip Pogadi (violin) and Colin Brooks (viola) joined forces with Gabrielle and Leat and gave an outstanding performance of Grieg´s 1st movement from his string quartet in g minor.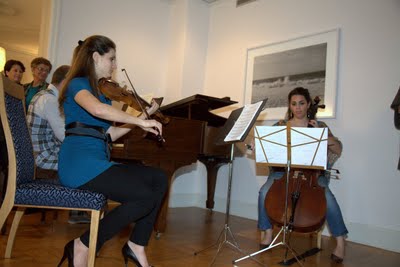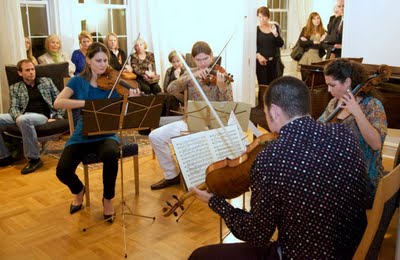 Kolstad's opening words of the event:
"Norway is a young nation. Before the second world war most Norwegians were more or less peasants and fishermen...but then we found oil. The rest is history. Some call it a petroleum farytale. I call it pure luck. We were lucky enough to have smart men and women invest and develop our new treasure. But our greatest treasure of all, is our culture. So now we invest our petroleum money in culture and tradition."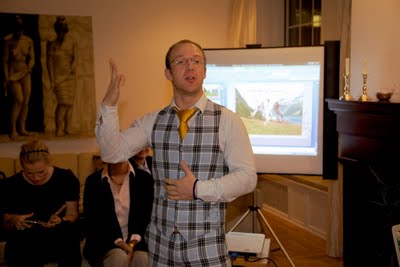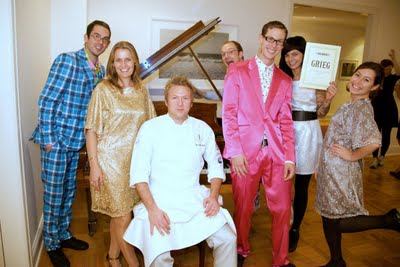 Pictures by Berit Hessen.
The history of Café de Concert
Café de Concert began a few days before the 19th of June 2003 when Aksel Kolstad together with a colleague performed live on Midt i Musikken, a classical music program on NRK radio P2. During the program, the trial concert was announced, to be held at Kastanjen restaurant on Bygdøy Allé in Oslo.
Read more...

Visit the old Café de Concert media centre HERE