Norwegian surprise at Caffé Vivaldi
All of a sudden, from out of the blue, several young musicians and students from the Norwegian Academy of Music in Oslo (where Café de Concert started) popped up at the concert last night at Caffé Vivaldi. A venue with amlost every classical composer framed on the wall in the back of the café. What can you say - it´s one of those "only in New York-stories" that happened.
The grand piano was delightful to play on and the intimate atmosphere was extraordiary at this wonderful venue. We are lucky to be performing there again on Thursday at 7.30 PM!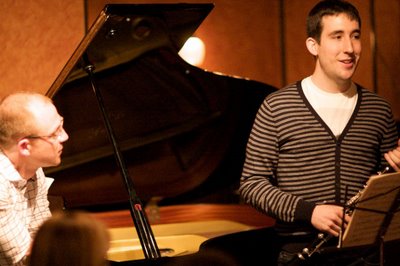 See more pictures from the concert in our
media center
.
The history of Café de Concert
Café de Concert began a few days before the 19th of June 2003 when Aksel Kolstad together with a colleague performed live on Midt i Musikken, a classical music program on NRK radio P2. During the program, the trial concert was announced, to be held at Kastanjen restaurant on Bygdøy Allé in Oslo.
Read more...

Visit the old Café de Concert media centre HERE