Steinway Hall opens up its heart to Café de Concert
Aksel had a wonderful meeting with Vivian Chiu, Peter Goodrich and the amazingly funny piano tuner from Portugal. Now Café de Concert is planning future concerts in the lobby of the Steinway Hall.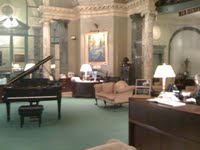 Kolstad was so fortunate to be able to rehears in the wonderful basement where all of history´s greatest pianists have been rehearsing - and still are.
On the grand piano next to the one Aksel was practicing on, he found a reservation for a familiar name in Norway - so Aksel wrote a short message on his business-card for him.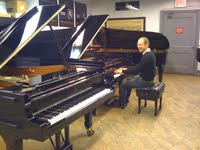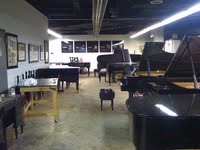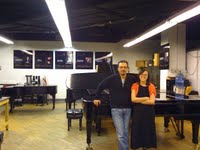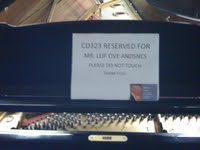 The history of Café de Concert
Café de Concert began a few days before the 19th of June 2003 when Aksel Kolstad together with a colleague performed live on Midt i Musikken, a classical music program on NRK radio P2. During the program, the trial concert was announced, to be held at Kastanjen restaurant on Bygdøy Allé in Oslo.
Read more...

Visit the old Café de Concert media centre HERE