Why is Harlekin crying - a post festival story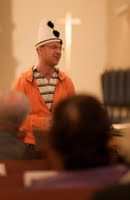 The circus is closed. Everybody went home. The streets are empty, and Harlekin has nowhere to go, his home has closed for the night. He strolls up the narrow streets, looking through window glasses. The rooms are all dark, everybody is a sleep. In the very end of the street lies a little café nobody goes to. Only Harlekin knows of it. He opens the café-door. A small candle is lit on one of the tables, next to a painting of Mona Lisa.
Harlekin smiles with tears in his eyes when he sees it. Mona Lisa knows Harlekin well. She likes when he comes to visit late at night. Next to Mona Lisa is an old piano. Harlekin sits down next to the piano and looks at the music lying on it. It´s the Goldberg-variations by Bach. Harlekin starts to cry. So does Mona Lisa. Halrekin starts to play. Then he looks at Mona Lisa and plays Bach the way she likes it.
Listen to Aksel Kolstad: Harlekins variations
(Live from the Fredrikstad Café de Concert-festival 2009)
The history of Café de Concert
Café de Concert began a few days before the 19th of June 2003 when Aksel Kolstad together with a colleague performed live on Midt i Musikken, a classical music program on NRK radio P2. During the program, the trial concert was announced, to be held at Kastanjen restaurant on Bygdøy Allé in Oslo.
Read more...

Visit the old Café de Concert media centre HERE